Try out the traditional Japanese sport – more fun than ever! All you need is a sufficiently large and flat space for the wrestling mat. After this, put on only the sumo suit and you are ready to see where he or she is made of. Sumo wrestling suits for all and we guarantee that you can't stop the laughter!
The event package includes: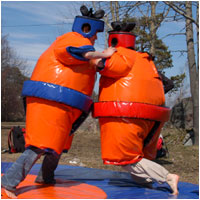 2 pieces of sumo suits
2 pieces of helmets
2 pieces of headrests
4×4 diameter wrestling mat
Special instructions:
You need about 2 meters of free space in each direction, ie the total about 8 x 8 meters around the wrestling mat.
In the summer time this can be achieved for example on grass, like your own yard or in the park. In the winter time a space big enough is needed.
You can book an guided event from us or rent the package for your own.
Price:
Guided event from 120 €/hour
Rented 200 €/day or 250 €/weekend
BATMAN VS. SPIDERMAN
Who among us wouldn't have ever wondered which one is tougher – Batman or Spiderman? Now you can find it out – with our service you can go one step further where you can wrestle and fight safely in either super hero suit. Suits are perfectly safe so you don't have to worry for any injuries and just focus on having fun.
The event package includes the costume and in addition the super thick boxing gloves and the wrestling mat.
Batman and Spiderman fight fits ideally as a event number for bachelor parties, childrens birthdays, work well-being days or even for a normal weekend to cheer you up.
You can book the guided event from us or rent on your own.
Price:
Guided event from 120 €/hour
Rented 200 €/day or 250 €/weekend